8-Bit News
"At least as ugly as Google News's default appearance." - safariextensions.tumblr.com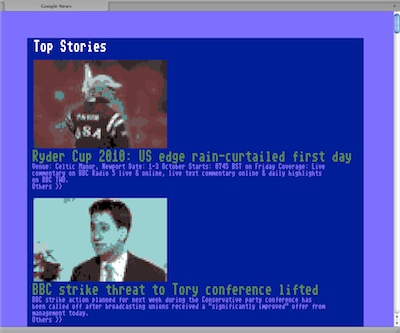 Larger image
8-Bit News is a Safari extension that gives Google News an 8-bit look. Apart from looking cool, 8-Bit News also emphasises the news on the page and removes alternate headlines, "starring", and so on. The only things you see are the headline, a Commodore 64-era picture, a snippet of the story, and links to other news articles about the same topic. To use the extension: download it by clicking the link below. Then, double-click the extension to install it. Test it by visiting Google News.
Bad news! Google has started referencing more external images from their page. Safari extension JavaScript can't access image data for images loaded from other servers because of the same-origin policy. So, many images are not being properly converted. Unfortunately the only solution is apparently to use a proxy server. I think this is an unreasonable privacy invasion for 8-bit news users just so they can see some 8-bit images, so, for now, the images will remain un-pixellated. Sorry about that!


8bitnews.safariextz
by Nicholas FitzRoy-Dale
Version 1.06
Bugs? Suggestions? Send email to wzdd@lardcave.net.
8-Bit News includes Kreative Korp's excellent Commodore 64 font Pet Me 64 2Y. Kreative Korp has a lot of cool fonts free for personal use. Pet Me 64 2Y is made available under Kreative Korp's personal use license, included below.
8-Bit News license
8-Bit News is freeware.
KREATIVE SOFTWARE RELAY FONTS PERSONAL USE LICENSE
version 1.0p
Permission is hereby granted, free of charge, to any person or entity (the "User") obtaining a copy of any font files (the "Software") produced by Kreative Software, to utilize, display, embed, or redistribute the Software, subject to the following conditions:
1. The User may not sell copies of the Software for a fee.
1a. The User may give away copies of the Software free of charge provided this license and any documentation is included verbatim and credit is given to Kreative Korporation or Kreative Software.
2. The User may not use the Software in any application, including but not limited to logos, documents, products, or designs thereof, involving or involved in commercial activity.
3. The User may not modify, reverse-engineer, or create any derivative works of the Software.
4. This license becomes null and void if any of the above conditions are not met.
5. Kreative Software reserves the right to change this license at any time without notice.
THE SOFTWARE IS PROVIDED "AS IS", WITHOUT WARRANTY OF ANY KIND, EXPRESS OR IMPLIED, INCLUDING BUT NOT LIMITED TO ANY WARRANTIES OF MERCHANTABILITY, FITNESS FOR A PARTICULAR PURPOSE, AND NONINFRINGEMENT OF COPYRIGHT, PATENT, TRADEMARK, OR OTHER RIGHT. IN NO EVENT SHALL THE COPYRIGHT HOLDER BE LIABLE FOR ANY CLAIM, DAMAGES OR OTHER LIABILITY, INCLUDING ANY GENERAL, SPECIAL, INDIRECT, INCIDENTAL, OR CONSEQUENTIAL DAMAGES, WHETHER IN AN ACTION OF CONTRACT, TORT OR OTHERWISE, ARISING FROM, OUT OF THE USE OR INABILITY TO USE THE SOFTWARE OR FROM OTHER DEALINGS IN THE SOFTWARE.

Change log:
1.0  : Initial release
1.01 : Fixed font / colour for quotes in "More stories"
1.02 : Fixed a bug with the image colour-reducing code
1.03 : Fixed another bug with the image colour-reducing code.
       Images are now looking much better, e.g. faces are
       skin-toned rather than green
1.04 : Now works with Google News' US site
1.05 : Halved image scale, put images and text closer together,
       removed underline from "Others >>" links
1.06 : Added a search box